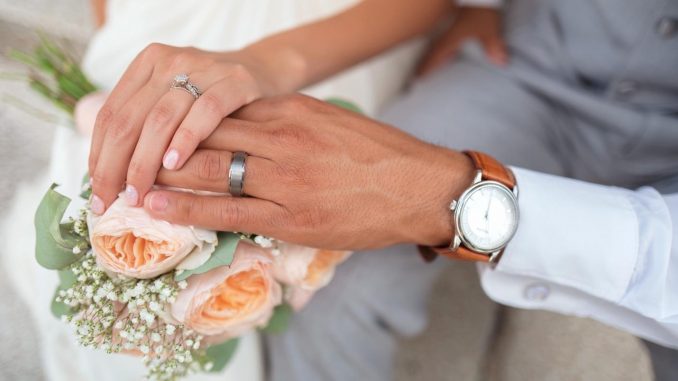 A bouquet of flowers is a grouping of flowers arranged specially. Flower bouquets can be hand-held or arranged for home or public building decor. Nosegay, crescent, and cascade bouquets are just a few of the popular forms and types of hand-held bouquets. Flower bouquets are used on various occasions like birthdays, anniversaries, funerals, and weddings. Throughout a wedding, the bride traditionally holds the bouquet, while the maid of honour holds it during the ceremony. The bride would toss the bouquet over her shoulder after the wedding, and it is said that the one who catches the bouquet will be the next in line to marry.
One popular flower to use at weddings is Baby's Breath, which is lovely on its own but also goes nicely with carnations, hydrangeas, and ranunculus. Baby's Breath may be featured in bouquets as well as across your wedding ceremony and reception decorations. Baby's Breath bouquets are lovely, delicate, and versatile. The Baby's Breath flower is a must-have for bridal bouquets and weddings. Its beauty and simplicity are the reasons why it has become so popular as part of a bridal arrangement. This lovely flower is definitely essential for every wedding ceremony. Beyond their excellent use in bouquets, Baby's Breath may also be used to embellish arches, to hang from mason jars on seats along the aisle, or to make a gorgeous flower wall to decorate the wedding venue.
The renowned Baby's Breath flower is appropriate for every occasion, whether you are planning a dazzling all-white wedding or a simple, sophisticated celebration. Despite its tender look, Baby's Breath is a long-lasting and resilient bloom that will remain fresh throughout your wedding day. Therefore, you will not have to worry about these flowers withering whether your event is indoors or outdoors.
Baby's Breaths are generally incorporated in wedding decorations because of their beautiful appearance and their affordable value. But more than all that, baby breath meaning and symbolism are also playing a role in their wide use in weddings. The Baby's Breath flower is a sign of never-ending love and feelings. This flower encourages us to always cherish and express devotion to those we care about. The purity of emotion that two individuals should have for each other during a wedding ceremony is also represented by the small white flowers.
Making a Bridal Bouquet with Baby's Breath
Having a flower designer produce a beautiful bouquet is a fantastic alternative if your budget allows it. However, keep in mind that a do-it-yourself bouquet option is always open. You may create a gorgeous, unique arrangement that suits your style with only a few materials and a few steps to serve as the ideal complement for your special day. Making your own bridal bouquet may be daunting, but it is definitely achievable.
First and foremost, choose the sort of flowers you want to include in your arrangement. Think about the theme of your wedding, the colour scheme, and what kinds of style do you want to include in the decorations. It may be helpful to start with the style of your wedding gown since it will set the tone for the whole event. Once you have a colour scheme and style in mind, you can start picking the flowers that you want. You can have a bouquet of just a beautiful cluster of Baby's Breath, or if you have other flowers in mind, you can always use Baby's Breath as the filler flower for your bridal bouquet.
You will need to source your flowers once you've devised a strategy for creating a stunning arrangement. If you have access to a garden, look for the available blossoms there. If you don't have access to a growing garden, seek the flower types you want from local farms, grocery shops, or even online.
To start making the bouquet, you will need a couple bunches of Baby's Breath or your flower of choice, floral tape, floral shears, and some ribbon. Woody stems are cut by shears, which are cutting instruments. Florist shears, also known as swelled-blade shears, have short, serrated blades and resemble scissors.
To make working with the flower simpler, start by separating the stems of Baby's Breath. Also, get rid of the lowest stray flower stalks. It will be easier to manage if you remove the bottom stems and form a circular shape. Removing the scattered sprays will also help your Baby's Breath bouquet's crown seem more circular. If you have other flowers in addition to Baby's Breath, start with a foundation and then add in your larger, focal blooms as you construct the stems. Then add smaller flowers and greenery as you go, balancing the pattern as you get further. Begin with a few stems and gradually increase the number of stems. Work in a circle until you get the desired size and form. Once you have got a solid anchor around the stems, roll the tape around the stems with one hand while holding the stems together with the other. When you overlap this stretchy tape, it sticks to itself. Wrap your stems in ribbon and tie in a bow or fancy knot to finish the bouquet. Cover the floral tape but leave the ends of the bouquet exposed so the flowers may continue to be hydrated before you need it. Trim ribbon and cut the bottom of Baby's Breath using flower shears to the appropriate length.
Sharon Trusty is a fashion blog author who has been writing about her own style and other people's styles for more than eight years. She likes to share her thoughts on all sorts of topics, from dating to make-up tutorials to what she should wear today, and everything in between.